'Eyes that Kiss in the Corners' by Joanna Ho
In this powerful and lyrical picture book, a young girl learns to love and celebrate her appearance. An empowering tale of self-acceptance and respect for one's roots.
A young Asian girl notices that her eyes look different from her peers'. They have big, round eyes and long lashes. She realizes that her eyes are like her mother's, her grandmother's, and her little sister's. They have eyes that kiss in the corners and glow like warm tea, crinkle into crescent moons, and are filled with stories of the past and hope for the future.
Drawing from the strength of these powerful women in her life, she recognises her own beauty and discovers a path to self-love and empowerment. This powerful, poetic picture book will resonate with readers of all ages.
'Kites' by Simon Mole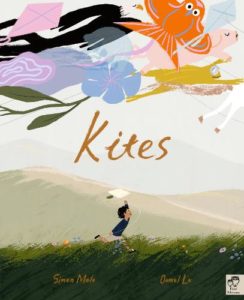 The day that David moved to Fivehills,
The first thing he noticed was the kites.
Little kites, big kites
Eagle kites, pig kites
Golden Frog kites with car headlights for eyes
Mirror kites singing the sky back at itself …
David knows that to fit in at Fivehills, he needs a kite. But when he makes one, the other kids of the town aren't too impressed. They say it needs this, then it needs that, then it needs something else … soon David's kite doesn't feel like his any more. But David remembers what his Grandpa said – "Let's see what we've already got. More often than not, we'll find the answer inside" and learns that when you're happy with yourself, friends will follow.
'Mixed' by Arree Chung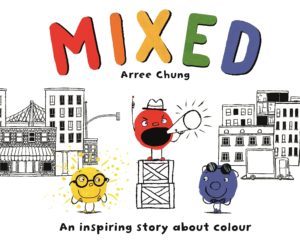 In the beginning, there were three colours . . .
Reds,
Yellows,
and Blues.
All special in their own ways, all living in harmony – until one day, a Red says "Reds are the best!" and starts a colour kerfuffle. When the colours decide to separate, is there anything that can change their minds?
A Yellow, a Blue, and a never-before-seen colour might just save the day in this inspiring book about colour, tolerance, and embracing differences.
'Once Upon a Goat' by Dan Richards
Once upon a time, a very prim and proper king and queen begged their fairy godmother for a child. They'd prefer a boy, with glowing skin, bright eyes, and two roses for lips … but any kid will do. When they find themselves gifted with a baby goat (also known as a kid) instead, they can't imagine how he'll fit into their lives. But of course, it isn't long before he's part of the royal family.
Readers will delight in this story's hilarity, confusion, and celebration of families that come in every shape and size.
'The Crayon Man' by Natascha Biebow
Purple mountains' majesty, mauvelous, jungle green, razzmatazz …
What child doesn't love to hold a crayon in their hands?  But children didn't always have such magical boxes of crayons.  Before Edwin Binney set out to change things, children couldn't really even draw in colour.
Here's the true story of an inventor who so loved nature's vibrant colours that he found a way to bring the outside world to children – in a bright green box for only a nickel! With experimentation, and a special knack for listening, Edwin Binney and his dynamic team at Crayola created one of the world's most enduring, best-loved childhood toys – empowering children to dream in COLOUR!
'The Many Colors of Harpreet Singh' by Supriya Kelkar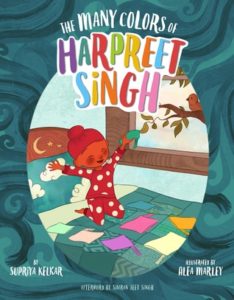 Harpreet Singh has a different color for every mood and occasion, from happy sunny yellow to courageous red. He especially takes care with his patka – his turban – making sure it always matches his outfit. But when Harpreet's mom finds a new job in a snowy city and they have to move, everything just feels gray and all he wants is to be invisible. Will he ever feel a happy sunny yellow again and make his life bright once more?