'Invasion of the Unicorns' by David Biedrzycki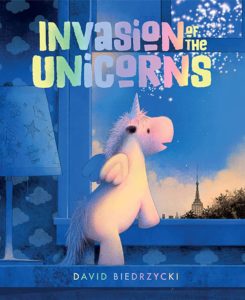 He's just a cute little unicorn who wants to take over the world.
Special Agent Bubble07 is undercover on planet Earth. His mission: to decide whether his team of alien unicorns should invade Earth. Posing as a stuffed animal, he infiltrates the home of Earthling Daughter, where he puts up with dog slobber, tea parties, and show and tell. Will the unicorn blow his cover and call for backup? Or will his alien heart be won over by story time, snow days, and snuggles?
'Magic Candies' by Heena Baek
A quirky story about finding your voice …
Tong Tong could never have imagined what everyone around him was thinking. But when he gets hold of some magic candies, suddenly there are voices everywhere. He can hear how his couch feels, what upsets his dog, that his demanding dad loves him. He even gets to catch up with his dead grandmother. It turns out, these voices in Tong Tong's life have A LOT to say! Is Tong Tong ready to hear it?
At turns funny, weird, and heartfelt, this imaginative picture book from award-winning Korean author Heena Baek will take readers along on Tong Tong's journey as he goes from lonely to brave.
'Ducks Overboard!' by Markus Motum
Eco facts come to light as a plastic duck narrates this beautifully illustrated true story of thousands of bath toys that were lost at sea and swept to the four corners of the Pacific.
If a shipping container filled with 28,000 plastic ducks spilled into the Pacific Ocean, where would all those ducks go? Inspired by a real incident, this captivating and innovative look at the pollution crisis in our oceans follows one of the ducks as it is washed away on ocean currents, encountering plastic-endangered whales and sea turtles and passing through the giant floating island of marine debris known as the Great Pacific Garbage Patch.
An end map documents the widely scattered journey of the real-life plastic ducks, showing where they have been found, as well as facts about the ways plastic is affecting various parts of the world.
'That's Not My Name!' by Anoosha Syed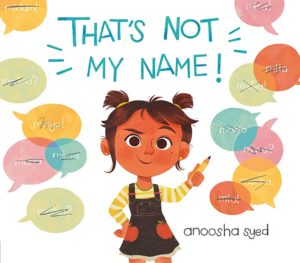 A picture book about loving your name, finding your voice, and standing up for yourself.
Mirha is so excited for her first day of school! She can't wait to learn, play, and make new friends. But when her classmates mispronounce her name, she goes home wondering if she should find a new one. Maybe then she'd be able to find a monogrammed keychain at the gas station or order a hot chocolate at the cafe more easily.
Mama helps Mirha to see how special her name is, and she returns to school the next day determined to help her classmates say it correctly – even if it takes a hundred tries.
'Krit Dreams of Dragon Fruit' by Natalie Becher & Emily France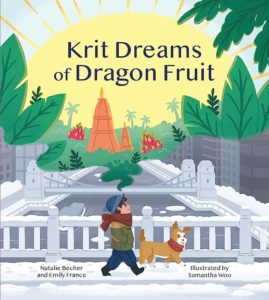 A beautifully illustrated, Zen-inspired picture book for children ages 4-8 about moving to a new home, making friends, and finding beauty wherever you are.
Krit and his dog, Mu, love their beautiful home in Thailand – full of golden temples, colourful mountainsides, and endless adventures. Everything seems perfect until Krit's mother announces they will be moving to the frigid city of Chicago. At first, Krit tries to adjust to this unfamiliar place, but he can't do any of the things he used to love. Missing Thailand, Krit asks his mother to tell him a story about home. But instead of a story, she gives Krit a koan – a Zen riddle – to puzzle through. Krit wonders what the story about a blade of grass and Buddha's smile have to do with home, but in solving the puzzle, Krit meets a new friend and learns that home is wherever he makes it.
'How to Be a Real Man' by Scott Stuart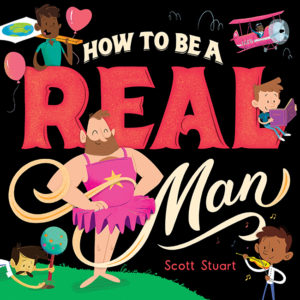 Scott Stuart encourages boys to embrace who they truly are in this empowering and funny story, smashing age-old assumption about what it means to be a man.
Encompassing boys and men from different backgrounds, and told in irresistible rhyme, 'How to be a Real Man' is a great picture book for all young readers.
Men should be STRONG with helping hands.
Men should FIGHT for what is right.
Men should be BRAVE and show how they feel.
Some of the thoughts shared about what it really means to be a 'real' man.