'You Must Be Layla' by Yassmin Abdel-Magied
With her long skirt and headscarf Layla certainly stands out at her new high school. Everyone thinks they know her, just from a glance. But do they? And does Layla really know herself? Layla's mind goes a million miles a minute, so does her mouth – unfortunately her better judgement can take a while to catch up! Although she believes she was justified for doing what she did, a suspension certainly isn't the way she would have wished to begin her time at her fancy new high school.
Despite the setback, Layla's determined to show everyone that she does deserve her scholarship and sets her sights on winning a big invention competition. But where to begin? Looking outside and in, Layla will need to come to terms with who she is and who she wants to be if she has any chance of succeeding. Jam-packed with heart and humour You Must Be Layla by Yassmin Abdel-Magied reveals a powerful new voice in children's writing. Touching on the migrant experience and exploring thought-provoking themes relevant to all teens, this book shows the strength required to be a Queen with a capital 'Q'.
'On the Move – Poems About Migration' by Michael Rosen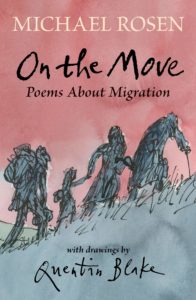 Former Children's Laureates Michael Rosen and Sir Quentin Blake join forces for a personal and uniquely affecting collection of poems about migration.
"What you leave behind
Won't leave your mind.
But home is where you find it.
Home is where you find it."
Michael Rosen and Sir Quentin Blake join forces for a landmark new collection, focusing on migration and displacement. Michael's poems are divided into four: in the first series, he draws on his childhood as part of a first-generation Polish family living in London; in the second, on his perception of the War as a young boy; in the third, on his "missing" relatives and the Holocaust; and in the fourth, and final, on global experiences of migration. By turns charming, shocking and heart-breaking, this is an anthology with a story to tell and a powerful point to make: "You can only do something now."
'Too Bright to See' by Kyle Lukoff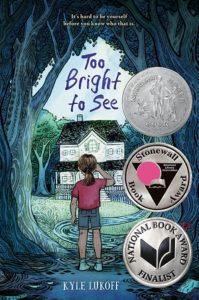 It's the summer before middle school and eleven-year-old Bug's best friend Moira has decided the two of them need to use the next few months to prepare. For Moira, this means figuring out the right clothes to wear, learning how to put on makeup, and deciding which boys are cuter in their yearbook photos than in real life. But none of this is all that appealing to Bug, who doesn't particularly want to spend more time trying to understand how to be a girl. Besides, there's something more important to worry about: A ghost is haunting Bug's eerie old house in rural Vermont … and maybe haunting Bug in particular. As Bug begins to untangle the mystery of who this ghost is and what they're trying to say, an altogether different truth comes to light …
'The Shadow Prince' by David Anthony Durham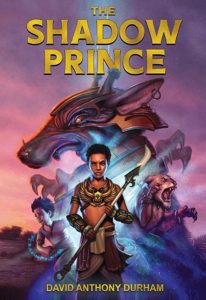 In this middle grade solarpunk novel set in an alternate Egyptian universe, twelve-year-old Ash must compete to become the Shadow–and protector–of the prince.
FIVE DEADLY TESTS, ONLY ONE SHADOW PRINCE
Growing up as an orphan in a remote village in the Egyptian desert, Ash's life is pretty ordinary–sort of. He spends most of his time working in irrigation canals and avoiding bullies, but he is also being secretly trained by his mentor Yazen for some great purpose. Yazen has never said what that is, until now: the night before Ash's twelfth birthday. According to Yazen, Ash was born on the same day as Prince Khufu, which makes him eligible to compete to be the prince's shadow, a lifelong confidante and bodyguard. Ash doesn't really believe Yazen, but when a floating royal barge, driven by solar-powered sails, arrives to take Ash and his mentor to the bustling, magical, and solar-powered capital, things get real.
What awaits Ash is deadly – five days of dangerous tests, each overseen by a different Egyptian god. Unfortunately, they've been told, not all will survive. On top of the tests, Ash is up against Set, the devious god of chaos, secretly working toward the candidates' demise. If they fail, a different prince will inherit the throne, one Set can manipulate for his evil schemes. Ash finds two friends willing to fight by his side, but he's been warned. Some candidates lie, cheat, and even try to harm others to win. Can Ash and his friends do what it takes to save the kingdom? And will there be anyone left to become the Shadow Prince?
'City of Dragons – The Awakening Storm' by Jaimal Yogis & Vivian Truong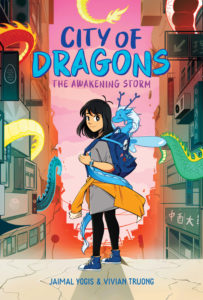 Grace and her friends must protect a newly hatched dragon from mysterious evildoers.
When Grace moves to Hong Kong with her mum and new stepdad, her biggest concern is making friends at her fancy new boarding school.
But when a mysterious old woman gifts her a dragon egg during a field trip, Grace discovers that the wonderful stories of dragons she heard when she was a young girl might actually be real – especially when the egg hatches overnight.
The dragon has immense powers that Grace has yet to understand. And that puts them both in danger from mysterious forces intent on abusing the dragon's power. And now it's up to Grace and her school friends to uncover the sinister plot threatening the entire city!
'The Acrobats of Agra' by Robin Scott-Elliot
From the author of the critically acclaimed The Tzar's Curious Runaways, the unforgettable tale of a circus, three brave orphans and a tiger caught in the Indian rebellion of 1857. An action-packed adventure.
In the ancient city of Agra, in the shadow of the Taj Mahal, three children from different parts of the world forge a friendship to save a starving tiger, find a lost brother and MAKE THE SHOW GO ON. The circus must survive!