'The Alien Adventures of Finn Caspian #1: The Fuzzy Apocalypse' by Jonathan Messinger
Eight-year-old Finn is the first kid born in space and he spends his days looking for new planets to explore with his three best friends and his robot, Foggy.
He's used to wild, galaxy hopping adventures. But when Explorer Troop 301 gets stuck on a planet that's about to explode, Finn and his friends will have to face giant aliens, a leader with mind control powers, and one evil, fluffy bunny rabbit in order to save the planet . . . and themselves. 
Blast off into a brand-new adventure inspired by the popular award-winning kids' podcast! Like the podcast, the books are sort of like Scooby-Doo meets Buffy the Vampire Slayer in space. The story centers on Finn Caspian, an 8-year-old boy aboard The Famous Marlowe 280 Interplanetary Exploratory Space Station. He and his friends Abigail, Elias, and Vale are Explorers Troop 301, taking off from the Marlowe to explore uncharted planets, help the occasional alien, and solve a mystery that threatens to destroy the Marlowe.
'Lift' by Minh Lê & Dan Santat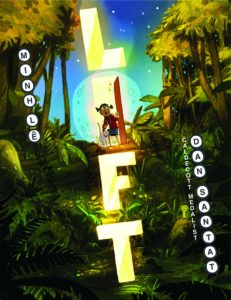 Iris loves to push the elevator buttons in her apartment building, but when it's time to share the fun with a new member of the family, she's pretty put out. That is, until the sudden appearance of a mysterious new button opens up entire realms of possibility, places where she can escape and explore on her own. But when it becomes a question between going it alone or letting her little brother tag along, Iris finds that sharing a discovery with the people you love can be the most wonderful experience of all.
'Anna Gain and the Same Sixty Seconds' by Guy Bass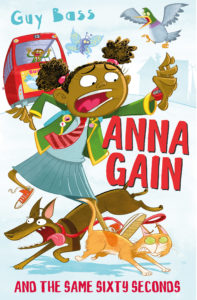 Ever-punctual Anna Gain is never late, and she's certainly never late for the school bus. Every day she catches it in perfect time. But not today. After a series of absurd events cause Anna to miss the bus, she's transported one minute back in time – only to be stuck re-living the same sixty seconds again … and again … and again … Is fate trying to teach Anna a lesson? And will she ever escape?
'The Elephant's New Shoe' by Laurel Neme
When Chhouk, an Asian elephant calf, was found, he was alone, underweight, and had a severe foot injury. Conservationist Nick Marx of Wildlife Alliance rescued the baby elephant. With help from the Cambodian Forestry Administration, the Cambodian School of Prosthetics and Orthotics, and an elephant named Lucky, Nick nursed Chhouk back to health and made him an artificial foot. One of the first animals to ever be fitted with a prosthetic, Chhouk helped pioneer the technology – and most importantly, was able to walk again! 
This true animal rescue story will satisfy animal lovers and capture the hearts of both young readers and their parents.
'Hippopotamister' by John Patrick Green
The zoo isn't what it used to be. It's run down, and Hippo hardly ever gets any visitors. So he decides to set off for the outside with his friend Red Panda. To make it in the human world, Hippo will have to become a Hippopotamister: he'll have to act like a human, get a job, and wear a hat as a disguise. He's a good employee, whether he's a construction worker, a hair stylist, or a sous chef. But what he really needs is a job where he can be himself.
'Chapter Two is Missing!' by Josh Lieb
Chapter Two is Missing is a hilarious picture book mystery starring a hopelessly lost narrator, an unqualified detective, and a very sneaky janitor, who are all surprised to discover that the second chapter of the very book of which they are a part is, GASP, missing! 
It was here a minute ago, but now it seems to have simply walked off. Not only that, but some of the punctuation has gone topsy-turvy, a bunch of letter Ms are hiding in Chapter 5, and Chapter 45 appears to be from another book entirely! The narrator is going to need some assistance getting things in order, especially with the unhelpful detective who keeps butting in and that shifty janitor lurking about. Luckily he has you, the reader, to help!