'Maybe Maybe Marisol Rainey' by Erin Entrada Kelly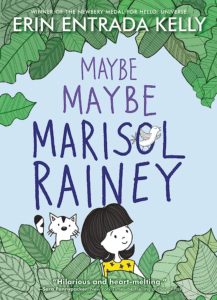 Maybe, Maybe Marisol Rainey is an illustrated novel about summer, friendship, and overcoming fears, told with warm humour and undeniable appeal. Fans of Clementine, The Year of Billy Miller, and Ramona the Pest will be thrilled to meet Marisol.
Marisol Rainey's mother was born in the Philippines. Marisol's father works and lives part-time on an oil rig in the Gulf of Mexico. And Marisol, who has a big imagination and likes to name inanimate objects, has a tree in her backyard she calls Peppina … but she's way too scared to climb it. This all makes Marisol the only girl in her small Louisiana town with a mother who was born elsewhere and a father who lives elsewhere (most of the time) – the only girl who's fearful of adventure and fun.
Will Marisol be able to salvage her summer and have fun with Jada, her best friend? Maybe. Will Marisol figure out how to get annoying Evie Smythe to leave her alone? Maybe. Will Marisol ever get to spend enough real time with her father? Maybe. Will Marisol find the courage to climb Peppina? Maybe.
'Unbound, The Life and Art of Judith Scott' by Joyce Scott
A moving and powerful introduction to the life and art of renowned artist, Judith Scott, as told by her twin sister, Joyce Scott and illustrated by Caldecott Honor artist, Melissa Sweet.
Judith Scott was born with Down Syndrome. She was deaf, and never learned to speak. She was also a talented artist. Judith was institutionalized until her sister Joyce reunited with her and enrolled her in an art class. Judith went on to become an artist of renown with her work displayed in museums and galleries around the world.
Poignantly told, Unbound is inspiring and warm, showing us that we can soar beyond our perceived limitations and accomplish something extraordinary.
'Sona Sharma, Very Best Big Sister' by Chitra Soundar
Can Sona be the best big sister ever when she's not sure she even wants a baby sister or brother? Brimming with warmth and charm, this story set in India will resonate with new older siblings everywhere.
Sona Sharma's house is full of three generations of people who joke often and argue sometimes. Relatives come over unannounced, the phone rings frequently, and friends drop by all the time. Then one day Amma tells Sona that she is going to have a baby. Is that good? Sona isn't so sure. She doesn't want to share her room or her things with a new baby, not to mention the attention of Amma, Appa, Thatha, and Paatti. And despite Amma's assurance that the sky always has room for new stars, Sona doesn't feel stretchy or bighearted like the sky. But when she learns there will be a baby-naming ceremony, she's determined to find the best name for her new brother or sister—one as nice as her own, a Hindi word for "gold." This tale of warming up to change is followed by a glossary of words from India to explore in the story.
'Killer Underwear Invasion!' by Elise Gravel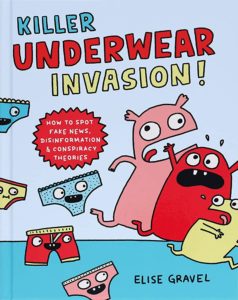 A hilarious and timely tool to help kids learn how to tell what news is true and what isn't.
Can peanuts give you super strength? Were unicorns discovered on the moon? Did Martians really invade New Jersey? For anyone who has ever encountered outrageous stories like these and wondered whether they were true, this funny, yet informative book breaks down what fake news is, why people spread it, and how to tell what is true and what isn't. With quirky illustrations and a humorous tone, Elise Gravel brings her kid-accessible wit to the increasingly important subject of media literacy and equips younger readers with the skills needed to interact with global news.
'Beautifully Me' by Nabela Noor
From designer, creator, and self-love advocate Nabela Noor comes a much-needed picture book about loving yourself just as you are.
Meet Zubi: a joyful Bangladeshi girl excited about her first day of school. But when Zubi sees her mother frowning in the mirror and talking about being "too big," she starts to worry about her own body and how she looks. As her day goes on, she hears more and more people being critical of each other's and their own bodies, until her outburst over dinner leads her family to see what they've been doing wrong – and to help Zubi see that we can all make the world a more beautiful place by being beautifully ourselves.
'Nana Akua Goes to School' by Tricia Elam Walker & April Harrison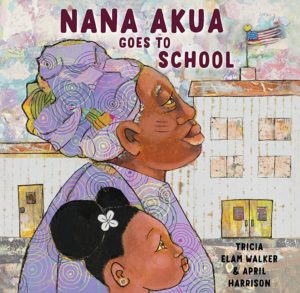 In this moving story that celebrates cultural diversity, a shy girl brings her West African grandmother–whose face bears traditional tribal markings–to meet her classmates. This is a perfect read for back to school!
It is Grandparents Day at Zura's elementary school, and the students are excited to introduce their grandparents and share what makes them special. Aleja's grandfather is a fisherman. Bisou's grandmother is a dentist. But Zura's Nana, who is her favorite person in the world, looks a little different from other grandmas. Nana Akua was raised in Ghana, and, following an old West African tradition, has tribal markings on her face. Worried that her classmates will be scared of Nana – or worse, make fun of her – Zura is hesitant to bring her to school. Nana Akua knows what to do, though. With a quilt of traditional African symbols and a bit of face paint, Nana Akua is able to explain what makes her special, and to make all of Zura's classmates feel special, too.