'A Deadly Education' by Naomi Novik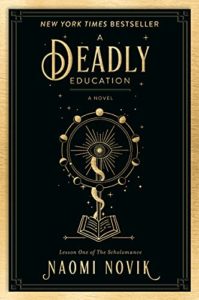 Lesson One of the Scholomance: Learning has never been this deadly.
A Deadly Education is set at Scholomance, a school for the magically gifted where failure means certain death (for real) – until one girl, El, begins to unlock its many secrets.
There are no teachers, no holidays, and no friendships, save strategic ones. Survival is more important than any letter grade, for the school won't allow its students to leave until they graduate … or die! The rules are deceptively simple: Don't walk the halls alone. And beware of the monsters who lurk everywhere.
El is uniquely prepared for the school's dangers. She may be without allies, but she possesses a dark power strong enough to level mountains and wipe out millions. It would be easy enough for El to defeat the monsters that prowl the school. The problem? Her powerful dark magic might also kill all the other students. 
With flawless mastery, Naomi Novik creates a school bursting with magic like you've never seen before, and a heroine for the ages—a character so sharply realized and so richly nuanced that she will live on in hearts and minds for generations to come.
'How Dare the Sun Rise' by Sandra Uwiringiyimana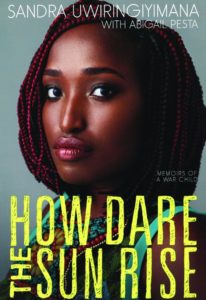 This profoundly moving memoir is the remarkable and inspiring true story of Sandra Uwiringiyimana, a girl from the Democratic Republic of the Congo who tells the tale of how she survived a massacre, immigrated to America, and overcame her trauma through art and activism.
Sandra Uwiringiyimana was just ten years old when she found herself with a gun pointed at her head. The rebels had come at night—wielding weapons, torches, machetes. She watched as her mother and six-year-old sister were gunned down in a refugee camp, far from their home in the Democratic Republic of the Congo. The rebels were killing people who weren't from the same community, the same tribe. In other words, they were killing people simply for looking different.
"Goodbye, life," she said to the man ready to shoot her. 
Remarkably, the rebel didn't pull the trigger, and Sandra escaped into the night. 
Thus began a new life for her and her surviving family members. With no home and no money, they struggled to stay alive. Eventually, through a United Nations refugee program, they moved to America, only to face yet another ethnic disconnect. Sandra may have crossed an ocean, but there was now a much wider divide she had to overcome. And it started with middle school in New York.
In this profoundly moving memoir, Sandra tells the story of her survival, of finding her place in a new country, of her hope for the future, and how she found a way to give voice to her people.
'The Girl from the Sea' by Molly Knox Ostertag
Fifteen-year-old Morgan has a secret: She can't wait to escape the perfect little island where she lives. She's desperate to finish high school and escape her sad divorced mom, her volatile little brother, and worst of all, her great group of friends … who don't understand Morgan at all. Because really, Morgan's biggest secret is that she has a lot of secrets, including the one about wanting to kiss another girl. Then one night, Morgan is saved from drowning by a mysterious girl named Keltie. The two become friends and suddenly life on the island doesn't seem so stifling anymore. But Keltie has some secrets of her own. And as the girls start to fall in love, everything they're each trying to hide will find its way to the surface … whether Morgan is ready or not.
'Truly Devious' by Maureen Johnson
Ellingham Academy is a famous private school in Vermont for the brightest thinkers, inventors, and artists. It was founded by Albert Ellingham, an early twentieth century tycoon, who wanted to make a wonderful place full of riddles, twisting pathways, and gardens. "A place," he said, "where learning is a game."
Shortly after the school opened, his wife and daughter were kidnapped. The only real clue was a mocking riddle listing methods of murder, signed with the frightening pseudonym "Truly, Devious." It became one of the great unsolved crimes of American history.
True-crime aficionado Stevie Bell is set to begin her first year at Ellingham Academy, and she has an ambitious plan: She will solve this cold case. That is, she will solve the case when she gets a grip on her demanding new school life and her housemates: the inventor, the novelist, the actor, the artist, and the jokester. But something strange is happening. Truly Devious makes a surprise return, and death revisits Ellingham Academy. The past has crawled out of its grave. Someone has gotten away with murder.
'Tsunami Girl' by Julian Sedgwick
Tsunami Girl is a powerful coming-of-age story of 15-year-old Yuki Hara Jones who gets caught up in the March 2011 Great Eastern Japan Earthquake and Tsunami. It's about a young person trying to work out who they are, and where they fit – and trying to do this whilst surviving the trauma of a triple disaster of colossal scale, told through both prose and manga. This is an incredibly intense and atmospheric read – the prose descriptions of the disaster and its aftermath are breathtakingly powerful. But it is also a story suffused with Japanese legend and modern-day ghost stories.
'Under the Broken Sky' by Mariko Nagai
A beautifully told middle-grade novel-in-verse about a Japanese orphan's experience in occupied rural Manchuria during World War II. Twelve-year-old Natsu and her family live a quiet farm life in Manchuria, near the border of the Soviet Union. But the life they've known begins to unravel when her father is recruited to the Japanese army, and Natsu and her little sister, Asa, are left orphaned and destitute. In a desperate move to keep her sister alive, Natsu sells Asa to a Russian family following the 1945 Soviet occupation. The journey to redemption for Natsu's broken family is rife with struggles, but Natsu is tenacious and will stop at nothing to get her little sister back. Literary and historically insightful, this is one of the great untold stories of WWII, it is powerful, poignant, and ultimately hopeful.